Japanese Interpreters / Japanese Interpreting Services in Japan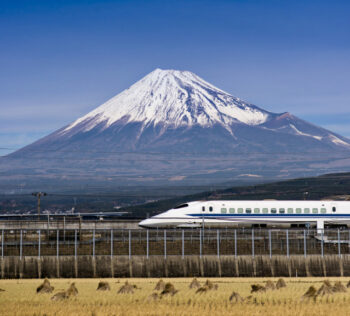 TJC Global's professional Japanese interpreters can assist you in cities and towns all over Japan and across the rest of the world.
The Japanese archipelago is divided into eight major regions known as KantÅ, Kansai, Hokkaido, ChÅ«bu, Tohoku, ChÅ«goku, Shikoku and Kyushu (incl. Okinawa). These areas are subdivided into a total of 47 prefectures (都é"府県 TodÅfuken). Among these, 43 are proper prefectures (県 ken) and 2 of them, Osaka and Kyoto, are urban prefectures (府 fu). The remaining 2 are Hokkaido, which is a "territory" (é" dÅ) and Tokyo, which is a "metropolis" (都 to). TJC Global's network of professional interpreters spans all eight of these major regions of Japan.
All our Japanese linguists are highly trained experts who understand the nuances and complexities of the Japanese as well as the other languages they work with.
We believe interpreting excellence should go hand in hand with an in-depth knowledge of the subject matter and, for this reason, we always endeavour to provide Japanese interpreters with a background or qualification in the given field. Their command of subject-related, often technical, terminology, procedure and the wider context ensures language support of the highest quality whatever the nature of your enquiry.
In addition to being gifted linguists, our Japanese interpreters are also informed of the local business etiquette, professional conduct and the corporate rules. Their familiarity with the subtle cultural nuances and terminology, ensures fluent and precise communication between parties, which is, in turn, essential to our clients' success.
Our professional Japanese interpreting services cover court cases, hearings, depositions, arbitrations, business meetings, negotiations, conferences, technical discussions, on-site visits and much more…
We provide professional Japanese interpreting services in all regions of Japan
Comprising seven prefectures in total, those of Gunma, Tochigi, Ibaraki, Saitama, Tokyo, Chiba, and Kanagawa, the Kanto region of Japan is situated in the middle of the main Japanese island of Honshu. It is home to the Greater Tokyo Area and the Tokyo-Yokohama Metropolitan Area. The word Kanto means "East of the Barrier".
Aside from Tokyo, major cities in the region such as Yokohama (Kanagawa), Ota City (Special Ward of Tokyo), Kawasaki (Kanagawa), Yokosuka (Kanagawa), Saitama (in Saitama Prefecture), Chiba (in Chiba), Atsugi (Kanagawa), Isesaki (Gunma), Mito (Ibaracki), Tsukuba (Ibaracki), Maebashi (Gunma). Utsunomiya (in Tochigi) is home to the multinational automotive company, Honda.
Sometimes referred to as Kinki, literally "the neighbourhood of the capital", Kansai is situated in the lower central portion of Honshu and spans from its north coast to its south coast. It encompasses the seven prefectures of Mie, Nara, Wakayama, Kyoto, Osaka, Hyogo and Shiga, and is home to over 23 million people, around 18 per cent of the overall population of Japan.
Kansai is home to many of Japan's major cities, including Kyoto, Osaka, Nara, and Kobe as well as Sakai (Osaka), Tsu (Mie) and Akashi (Hyogo), Himeji (Hyogo), Yokkaichi (Mie).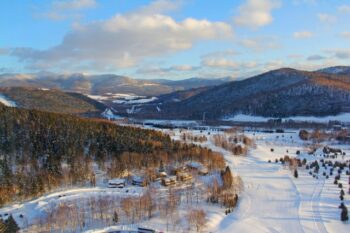 The northern island of Hokkaido is a self-contained prefecture with a population of just under 5.5 million. The capital city of Hokkaido, Sapporo, is located in the far west of the island, and is home to 2 million people. Asahikawa and Hakodate are also major cities on Hokkaido.
The island is famous for its untouched forests, many of which comprise national parks. With numerous mountains and six active volcanoes, Hokkaido is, like much of Japan, a centre of seismic activity.
The Chūbu region is located in the middle of Honshū between Japan's two most populous regions, Kanto and Kansai. It spans from the Sea of Japan coastline to the Pacific ocean coastline and has a landscape characterised by high, rugged mountains, including Japan's iconic volcano, Mount Fuji.
Encompassing the nine prefectures of Aichi, Fukui, Gifu, Ishikawa, Nagano, Niigata, Shizuoka, Toyama, and Yamanashi, Chūbu has a population of almost 22 million people. Its largest city is Nagoya (capital of the Aichi prefecture), one of Japan's major shipping ports, and home to over 2 million people. Kanazawa (Ishikawa), Toyohashi (Aichi), Okazaki (Aichi), Matsumoto (Nagano), Toyota (Aichi), home of the multinational automotive manufacturer, are also located in Chūbu .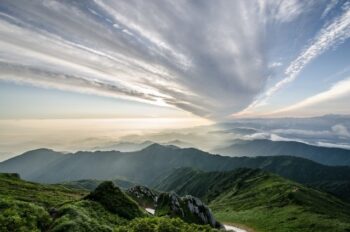 Tohoku is located in the northeast of the island of Honshu. It comprises six prefectures: Akita, Aomori, Fukushima, Iwate, Miyagi, and Yamagata. Its major cities include Aomori, Morioka (Iwate), Sendai (Miyagi), Toyama and Yamagata.
The east coast of Tohoku was one of the areas worst hit by the tragic earthquake and tsunami of March 2011. The damage inflicted by this natural disaster led to the Fukushima Daiichi nuclear disaster, which left 500,000 people homeless.
Home to more than 7.5 million people, the Chūgoku region is located in the westernmost portion of Honshu island. It is made up of the Hiroshima, Okayama, Shimane, Tottori, and Yamaguchi prefectures. Major cities include Hiroshima, Okayama, Kurashiki, Fukuyama, Shimonoseki, Kure, Matsue, Kurashiki (Okayama).
The city of Hiroshima is the capital of the Chūgoku region. Destroyed by an atomic bomb in 1945, Hiroshima is now an industrial metropolis home to more than one million people.
The region of Shikoku encompasses Shikoku island and its surrounding islets. It is the smallest of Japan's four main islands. Shikoku contains four prefectures, those of Ehime, Kagawa, KÅchi, and Tokushima. Major cities include Matsuyama (Ehime), Kochi, Takamatsu (Kagawa) and Tokushima.
Its name, meaning literally "four provinces", refers to the four former provinces that made up the island. These were known as Awa, Tosa, Sanuki, and Iyo.
Kyushu is the third largest of Japan's four major islands. It is situated to the south west of Honshu. The region is made up of seven prefectures plus the Okinawa prefecture, comprising the Okinawa and Ryukyu islands which are located around 400 miles south of Kyushu in the East China Sea.
The other seven prefectures are Fukuoka, Kumamoto, Nagasaki, Oita, Saga, Kagoshima and Miyazaki. Kyushu has a population of almost 13 million. Its major cities include Kitakyushu, Naha (Okinawa) and Sasebo.
Major cities in Japan
What to do next?
Please use the Quick Quote system above for a quote for interpreting, translation services or a related enquiry.
If you would like more information about our language services, please contact us.