Consecutive Interpreting Services
Our interpreting services are also available remotely with interpreters via video in multiple languages globally.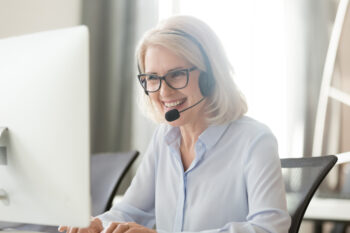 We provide professional video remote interpreting services in multiple languages, such as, French, Spanish, German, Italian, Portuguese, Russian, Arabic, Korean, Chinese, Japanese, Thai, Swedish, Norwegian, Polish, and many more.
There are several modes of interpreting, each appropriate for different settings and at different times. At a conference, for example, it is common to have simultaneous interpreters who sit in a booth with headsets on and interpret the speaker's words as they are being spoken for the benefit of listeners. Consecutive or face-to-face interpreters are used at business meetings and in most other business settings. They wait for the speaker to finish before interpreting for those who require it. Whispering interpreting is often used for business meetings when only a small number of people at the meeting require interpretation or time is short. Facilitating interpreting is a mode in which the interpreter interprets only when expressly requested by the client. At TJC Global, we have over 25 years of experience providing experienced interpreters in all modes.
VIDEO/ VIDEO CONFERENCE INTERPRETING
Video Remote Discussions are a practical alternative for meetings/presentations that cannot be held in person. They allow attendees to see one another and share visual aids, such as documents and powerpoint presentations. This is the critical advantage video conferencing has over telephone conferencing, although both enable participation in presentations and conferences by people anywhere in the world.

By participating in your video conference, our professionally qualified interpreters can interpret remotely to facilitate smooth communication between all parties, whichever language pairing you require. Because our interpreters are specialists in their field, they will be familiar with the specific terminology and context under discussion. We cover multiple languages worldwide.
TELEPHONE / TELECONFERENCE INTERPRETING
Telephone/teleconference interpretation is a practical way to bridge any language barriers. The interpreter is either located remotely (away from either party) or is with one of the parties. In both cases, they deliver interpreting services through telephone conferencing.

Telephone interpretation is useful for clients who cannot travel to their counterparts' country, but still wish, for example, to hold business discussions or to communicate progress updates.

At TJC Global, we are very happy to provide you with professionally qualified interpreters worldwide in almost any selected language combination.
Where is it used?
Our telephone remote interpreting services cover a wide range of industries and sectors, including:
If you would like to hire a telephone interpreter, please contact us.
SIMULTANEOUS INTERPRETING (also available remotely)
Commonly used at conferences, simultaneous interpretation is delivered in most instances by two interpreters, and usually from a booth. They listen to the speaker (in the source language) through a headset and simultaneously interpret the speech into the target language via a microphone. Simultaneous interpretation is common for conferences that involve several different languages and a large number of participants. Interpreters work in partnership, swapping every 15 to 20 minutes to alleviate pressure, as this can be tiring.
Where is it used?
This type of interpreting is commonly used for large conferences with a multi-national delegation. Occasionally simultaneous interpreting may also be used for legal proceedings such as arbitrations.
At TJC Global, we offer conference interpreters of the highest calibre. They are certified by recognised interpreting bodies and experienced in such skilled work.
Consecutive or face-to-face interpreting is used for many occasions, including business meetings and discussions in any industry, contract exchanges, technical and commercial discussions, court hearings, legal proceedings, pre-trial discussions, interviews, and on-site visits. The interpreter listens to the speaker, often making notes, and subsequently delivers the meaning in the target language. If a speech is delivered, the interpreter may wait until a pause or the end, at which point they deliver a translation relatively quickly.
Where is it used?
Business meetings, discussions, court hearings, legal proceedings, depositions, interviews, visits, tours, and inspections.
Although less common, consecutive interpreting may also be required at conferences. This may be to assist during panel discussions, Q&A (Question & Answer) sessions or perhaps in a situation where a company or organisation wishes to speak face-to-face with exhibiting businesses set up in stalls around the conference room.
This is useful when there is no booth equipment or microphone set and with a few people who do not speak a particular language at a meeting or seminar while most of the audience speaks that language. The interpreter often sits behind or sometimes stands beside them and whispers to them simultaneously. However, the interpreter and listeners may stand slightly away from the rest of the group to avoid disturbing them. Sometimes the interpreter uses tour-guide equipment (small microphone and headset) to whisper to clients.
Where is it used?
This mode may be used at meetings when time is short (too short for consecutive interpreting) or when there are only two to three non-native language participants.
Why choose TJC interpreters?
TJC Global has been providing professional interpreting services for over 30 years, and we continue to maintain the same high quality of service. Although we are based in the UK, we can provide you with translators and interpreters in Europe, Asia, the USA and the Middle East and all other major countries.
TJC is happy to undertake work in any field, as its chief aim is to make all its clients confident that they can come back and receive the same high-quality services again and again. We have the ability to adapt to almost any type of project, from medium-term to long-term corporate ventures, to making first-time contact with a company.
Our interpreters are masters of both the source and target language. What sets them apart is that in addition to being gifted linguists, our interpreters are also informed of the local business etiquette, professional conduct and corporate rules.
Adapting to the speaker's speech pattern quickly, they will convey all information faithfully with an awareness of cultural and linguistic idioms.
Looking for interpreting assistance in other fields?
TJC Global provides specialist interpreting and translation services in various specialist fields. Whatever your requirement, we can find the right linguist to assist you.
If your industry or project type is not listed here, don't hesitate to contact us directly with your enquiry.
Our clinical trial translators utilise their knowledge of subject-specific terminology to deliver precise, unambiguous translations, whatever the context – enabling you to communicate effectively with the rest of the world.
We are also able to adapt to almost any type of project.
What to do next?
Please use the Quick Quote system above for a quote for interpreting, translation services or a related enquiry.
If you would like more information about our language services, please contact us.