Arbitration Interpreters in Moscow, Russia – Video Remote interpreters also available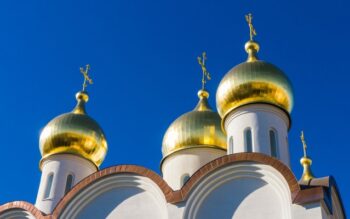 We provide professional arbitration interpreters in Moscow, Russia, and other cities worldwide.
The complexity of arbitration requires interpreters to be in possession of a high level of legal interpreting expertise in addition to knowledge of the subject at hand.
TJC's arbitration interpreters in Moscow have many years of experience and can cover many specialist fields. Their sensitivity to linguistic and cultural differences ensures professional, fluent and accurate interpreting services for all aspects of arbitration.
TJC Global's Moscow interpreters cover many languages, including Russian, German, French, Swedish, Danish, Finnish, Hungarian, Mandarin Chinese, Cantonese Chinese, Japanese, Korean and many more…
Need further assistance? Please contact us directly.
TJC Global is also equipped to provide legal document translations relating to arbitration.
Why choose TJC Global's Arbitration Interpreters in Moscow?
TJC interpreters have earned the trust of hundreds of international law firms, governmental institutions, private companies and many other organisations. To find out more about our previous clients, please click here.
Native speakers – TJC's interpreting services are arranged so that the interpreter interprets most often into his/her mother tongue to ensure accurate, fluent and natural communication between parties.
Relevant expertise – we provide interpreters with expertise in the field you are working in. This ensures an understanding of industry-specific terminology crucial to arbitration interpretation.
Long experience – TJC's arbitration interpreters in Moscow have many years of interpreting experience behind them. In legal settings, especially dispute resolution, this ensures that they will always maintain a high level of professionalism.
Arbitration in Moscow
We are also happy to assist you in other cities in Russia and other countries across the globe. Please see Useful Links at the bottom of the page.
Key fields covered by our Moscow arbitration interpreters
Agency
Banking
Commercial Law
Conflict of Laws
Corporate affairs
Criminal Law
Distribution
Energy
Financial services
Foreign Investment
Infrastructure projects
Insurance
Intellectual Property
International Trade
Joint Ventures
Labour law
Oil & Gas
Patents
Project Finance
Project Finance
Public International Law
Reinsurance
Sales and Commercial Contracts
Shipping
Small Claims
Sports Law
Telecommunications
Utilities
Is the field you require not listed here? We cover a wide variety of fields and industries. Please contact us directly with your enquiry.
Areas covered by TJC's Arbitration Interpreters in Moscow
Ad Hoc Proceedings
Advocacy
Alternative Dispute Resolution (ADR)
Arbitration involving states (BITs)
Commercial Disputes
ICC Rules of Arbitration
International Arbitration
International commercial arbitration
Investment Arbitration
Mediation
Non-binding Arbitration
Settlement Techniques
TJC's Interpretation Services in Moscow, Russia
We are also happy to assist you in many other global locations. Please see the list of useful links – international arbitration centres at the bottom of the page.
About Arbitration
Arbitration is becoming increasingly popular in dispute resolution in the international community. It is a resolution technique whereby a third party reviews the relevant evidence and imposes a legally enforceable decision.
Arbitrators, who have usually experienced lawyers or other experts in the case, are chosen either directly by the involved parties themselves or by a third party.
There are two different forms of arbitration: binding and non-binding. In binding arbitration, parties must agree to abide by the arbitrator's decision. While in non-binding arbitration, the process is used to help establish an advisory opinion that the opposing parties may or may not abide by. Arbitrations follow the evidential and procedural regularity of court proceedings but take place out of court in a less formal and less rigorous setting than litigation.
Arbitration differs from mediation in one key aspect. An arbitrator must remain neutral but, using his/her expertise and knowledge of the subject, decide who is right. A mediator must only assist the parties in coming to reconciliation or agreement with no judgement. However, a mediation settlement is also legally enforceable.
Useful Links – Arbitration Institutions Worldwide
Dubai International Arbitration Centre
International Arbitration Institute (IAS)
London Court of International Arbitration (LCIA)
Need further assistance? We are very happy to assist you – please contact us directly with your enquiry.