Swedish Court Interpreter Services | Swedish Court Interpreting | Worldwide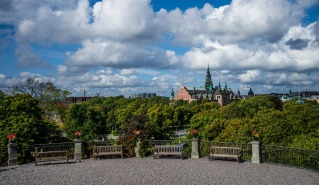 Video / Phone Remote Swedish Court Interpreter Services are also available
Court interpreters for English to Swedish, Swedish to English and multiple other languages
Court interpreting/interpretation requires in depth knowledge of the local court system and of specialised court terminologyin order to convey the exact meaning of a phrase.
TJC Global has provided qualified and experienced Swedish court interpreter services for over 20 years for locations all over the globe. Our experienced court interpreters have an extensive command of legal terminology. They are able to recognise difficult phrasing and pick up on colloquialisms, adjusting their interpretation accordingly.
Whatever the language, whatever the task, TJC Global is here to meet your expectations. Our interpreters and translators have signed NDAs and maintain TJC Global's standards of confidentiality and our professional code of conduct.
TJC interpreters and translators are also happy to work outside of court, for criminal cases; depositions; witness preparation; pre-trial meetings between attorneys, solicitors, barristers and clients and interviews with court personnel.
Contact us for a quote or to find out more about our Swedish court interpreting services.
Why choose TJC Global's Swedish Court Interpreters?
Our Swedish court interpreters have many years' experience in legal interpreting, and often qualifications to match. This extensive experience makes for language services of the highest-quality.
Our Swedish court interpreters combine expertise in their chosen industry with advanced language skills and a knowledge of relevant legal terminology meaning they are able to ensure accurate translations of complex industry or legal jargon.
TJC interpreters have earned the trust of hundreds of international law firms, governmental institutions, private companies and many other organisations. To find out more about ourprevious clients, please click here
Our Swedish court interpreters can assist in the following settings:
Locations covered by our Swedish Court Interpreters:
TJC's Swedish court interpreting services in hundreds of cities in Europe, Asia, North & South America, Australasia and Africa. For more information on the locations we cover, please see our global locations page or contact us directly.
About Swedish
Spoken by around 8.7 million people Swedish is not only the primary language of Sweden but also holds official language status in Finland along with Finnish. It is a North Germanic language, very similar to Danish and Norwegian yet slightly different in pronunciation and orthography.
Norwegians have little difficulty understanding Swedish, and Danes can also understand it, with slightly more difficulty than the Norwegians. Sweden Finns are Sweden's largest linguistic minority, comprising about 3 percent of Sweden's population and Finnish is recognised as a minority language. Four other minority languages are also recognised (Meänkieli, Sami, Romani and Yiddish).
Looking for interpreting assistance in other fields?
TJC Global provides specialist interpreting and translation services in various specialist fields. Whatever your requirement, we can find the right linguist to assist you.
If your industry or project type is not listed here, don't hesitate to contact us directly with your enquiry.
Our clinical trial translators utilise their knowledge of subject-specific terminology to deliver precise, unambiguous translations, whatever the context – enabling you to communicate effectively with the rest of the world.
We are also able to adapt to almost any type of project.
What to do next?
Please use the Quick Quote system above for a quote for interpreting, translation services or a related enquiry.
If you would like more information about our language services, please contact us.